Nowadays upgradable firmware is in all devices.
For those who don't know that USB 3.0 Firmware is actually upgradable, the additional features you can unlock makes doing this worthwhile.
Why do you want to upgrade firmware?
There would be new features available to newer firmware and upgrading firmware is as easy as ABC.
For example new firmware from ASMedia for ASM1051 supports 3 TB HDD.
You can also unlock additional features that the vendor lock out by default.
Lastly vendors especially External Mobile Harddisk manufacturers use old firmware, from my experience disk copy is much faster after upgrade.
How to upgrade firmware?
What you need:
Find out the USB 3.0 Controller Chip Make and Model most of the time they are either JMicron or ASMedia.
Download the firmware updates from station-drivers.com
Windows OS to flash the firmware
Open up the casing should be a no brainer if you are able to put a Harddisk Drive in. If you are not able to open it up try Google for the make and model
Look at the controller IC there should be a Controller IC.
The IC is usually very distinct and obvious. Read the Serial Model the picture below reads: ASMedia 1061.
Find the firmware online Station-Drivers has all the harddisk controller firmware updates from JMicron and ASMedia.
Download the firmware. Before you flash backup your Device ID, Serial Number, make and model in case it is erased during flashing. The firmware update tools runs on Windows so download and flash it accordingly. Should be a no brainer to do so being a point and click application. You can also custom configure what you want to enable in the firmware using the additional config tool.
A few reference to the USB 3.0 controller used by certain External Harddisk Enclosure which I use and know. If you know of any other USB Controller list post in the comments and I will update this list.
Vantec NexStar 3 SuperSpeed NST-280S3-BK
2.5" harddisk enclosure uses JMicron JMS 539 USB 3.0 Controller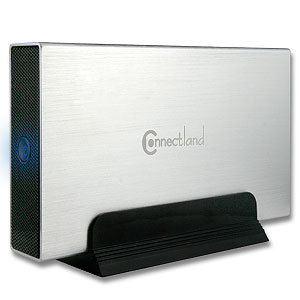 Connectland BE-USB3-ZH3532
3.5" harddisk enclosure uses ASMedia ASM1051 USB 3.0 Controller
Hitachi Touro Mobile
2.5" harddisk uses
ASMedia ASM1051 USB 3.0 Controller